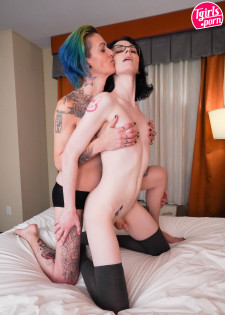 It's time for the first TGirls.Porn exclusive in 2021 and we have something special for you today! Evie Eliot returns on TGirls.Porn excited to debut her beautiful new pussy in a hardcore scene! She meets sexy Alice Fox and both girls are horny as hell and can't wait for the action to start! Watch them making love in this week's hot update brought to you by Radius Dark!
5th Jan 2021
30:26 HD Video
& 186 Photos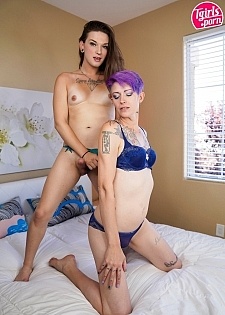 TWO site favourites intertwine in an awesome suck and fuckathon for this week's exclusive - one of which appears for the final time before her SRS. Evie Eliot and Jenna Creed just couldn't wait to get their hands in each others panties and get down to some raw bareback, girl on girl fun and we were just delighted when the results landed on our desks here at Grooby HQ. It's another red hot one here on TGP!
18th Sep 2018
30:52 HD Video
& 201 Photos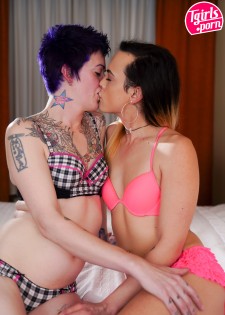 Another popping fuck scene from the world's premiere TS on TS site awaits as we proudly present April Lee & Evie Eliot in ball draining all-girl action! Two highly sexed little stunners who just couldn't keep their hands off each other's tight asses and rock hard cocks from the word action. Pull up your favorite chair, lock the door and enjoy the show.........
20th Mar 2018
36:40 HD Video
& 205 Photos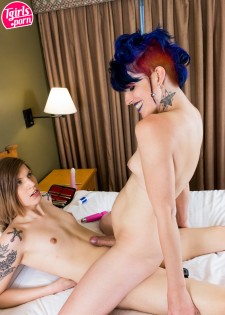 It gives us great pleasure to bring together these two burning nymphos with a combined sex drive to the moon and back! Evie Eliot and Freya Wynn combine in this classic girl on girl scene shot to perfection by Radius Dark.
3rd May 2016
46:15 HD Video
& 215 Photos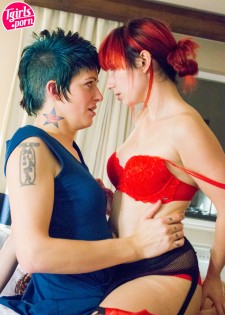 TWO VERY horny kitty cats get ferociously freaky in this sensational TS vs GG scene brought to you by the all new "Girls Only" site by Grooby; TGirls.Porn! Evie is a sassy little TGirl very well known to our fans who loves nothing better than slamming her big length into a tight wet pussy and when Oxcetalene Lane contacted Radius to say she was down to feel her first sizzling hot TS cock inside of her, this scene just came together beautifully! Strap in guys, you are in for a very rough ride!!
29th Dec 2015
28:53 HD Video
& 183 Photos